TERMS & CONDITIONS FOR HIJAMA SPECIAL EVENT BOOKING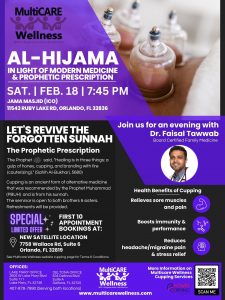 Click the WhatsApp QR Code to open the WhatsApp Business Phone.
TEXT your full name/booking date/time on number below.
You will get a confirmation follow-up text.
This is for a LIMITED number of clients. Only first 10 appointments will be accepted on the date provided below & this location only.
DATE AVAILABILITY:
Saturday, February 25 starting at 9 am.
SATELLITE LOCATION:
7758 Wallace Rd, Suite 6
Orlando, FL 32819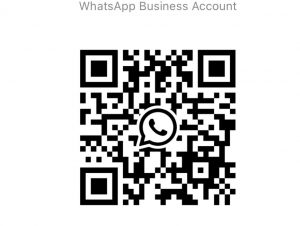 Cupping Therapy
Cupping is an ancient form of alternative medicine in which special cups either made out of glass, bamboo, earthenware or silicone are placed on specific areas of the body, then lightly suctioned and left on for a few minutes before removing. Cupping helps with pain, inflammation, blood flow, relaxation and well-being, and as a type of deep-tissue massage.  Multicare Wellness provides two types of cupping – wet cupping and dry cupping.
Dry Cupping
A gentle massage using organic oils. Dry Cupping Therapy for weight-loss functions in the opposite manner to a regular Swedish, deep tissue, lymphatic drainage massage or myofascial release massage. Cupping Therapy pulls the tissue up. There's a dramatic increase in blood and lymph circulation when a vacuum cup is applied.
Wet Cupping
The wet cupping or "Hijama" is an ancient Middle Eastern method that involves scratching the superficial layer of the skin with a surgical lancet. The scratches made are shallow and are not visible to the naked eye. A vacuum cup is applied on the area and few milliliters of toxic blood are suctioned out of the small incisions, thus promoting a relaxing detoxifying experience.
SCHEDULE A
FREE CONSULTATION
TO LEARN ABOUT CUPPING THERAPY
BENEFITS OF CUPPING
Relieves sore muscles and pain.

Increased range of motion and faster recovery.

Boost immunity and alleviate migraine symptoms for those with chronic headaches.

Reduces pain for individuals suffering from lower back pain.

Helps boost performance by enabling your body to produce more energy.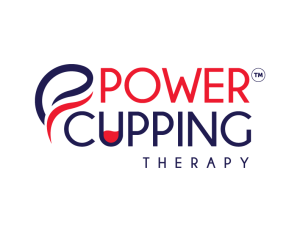 OPENING HOURS
407-878-7990
OFFICE LOCATIONS
LAKE MARY OFFICE:
2605 W Lake Mary Blvd, Suite 119, Lake Mary, FL 32746
DELTONA OFFICE:
634 Deltona Blvd, Suite A, Deltona, FL 32725
DR. FAISAL TAWWAB, M.D.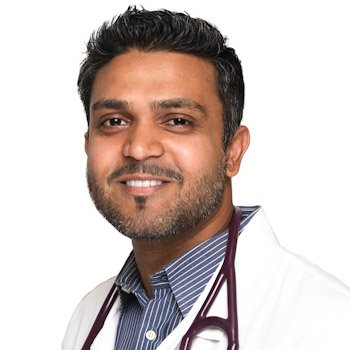 CEO & CO FOUNDER
"OUR PRIMARY CARE TEAM BLENDS EXPERIENCED M.D'S WITH THOSE TRAINED IN THE LATEST ADVANCES WHICH MEAN SUPERIOR QUALITY RESULTS FOR OUR PATIENTS. WE TREAT THEM AS IF THEY WERE FAMILY."
Hello! I'm Dr. Faisal
Board Certified Family Physician
Dr. Faisal Tawwab is a graduate of Gulf Medical University in Ajman, UAE, and completed his family medicine residency at the Trover Health System aka Baptist Health in Madisonville Kentucky in affiliation with the University of Louisville.
He has 10 years experience practicing medicine with a traditional and holistic approach.
Dr. Faisal has worked with various entities and facilities. – He worked with middle school and high school teams of North Hopkins and Central Hopkins, Kentucky where he was trained as a team doctor, provided sports physical exams for Baptist Health Sports Medicine, Madisonville Kentucky; he has worked as an urgent care physician with Baptist Health Powderly Urgent Care and currently works as a hospitalist with various hospitals throughout the US.
Dr. Faisal Tawwab Studied under the mentorship of Irfan Sheikh who resides in London, UK. In addition to this esteemed teacher, Dr. Tawwab names his grandfather, Hakim Abdul Wahab Zhoori, as his greatest influence. He was the former Principal of Nizamya Tibbi Medical College, Hyderabad India, and lived to age 92, with his last 10 years spent with end-stage Alzheimer's disease. His grandfather dedicated himself to the Unani system of medicine and was recognized as the foremost researcher in the field. His books remain in print in India and other parts of the world. Many of his key researched articles were translated into English and had been published in medical journals in England.
Dr. Faisal Tawwab has the rare ability to bring the best of allopathic medicine and traditional holistic healing therapies to help patients achieve a balanced state of health and wellbeing.
He enjoys playing basketball, working out and spending time with his family.